Our men's shelter has moved!
We are no longer located at 217 W. 12th Street in Over-the-Rhine. We are now operating from our new facility at 411 Gest Street.
Breaking the Cycle of Homelessness in Cincinnati
Every day, we provide shelter, safety and nourishment to 210 homeless men and women who otherwise would go without. Through our two gender-based, low-barrier shelters, we empower residents with holistic case management, health and employment services – while helping them to secure permanent housing.
"In the time we have it is surely our duty to do all the good we can to all the people we can in all the ways we can."
– William Barclay
The Winter Shelter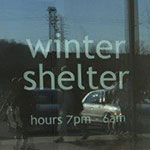 The Winter Shelter typically operates from December – February of each year, weather permitting, and usually serves an additional 700 homeless people. The Winter Shelter provides overflow accommodations when other shelters are at capacity. The Winter Shelter is located at the David and Rebecca Barron Center for Men at 411 Gest Street, Cincinnati, Ohio, 45203. Hours of operation are 7PM – 6AM. Open to men and women 18+.
Questions? Call 513-721-0643.