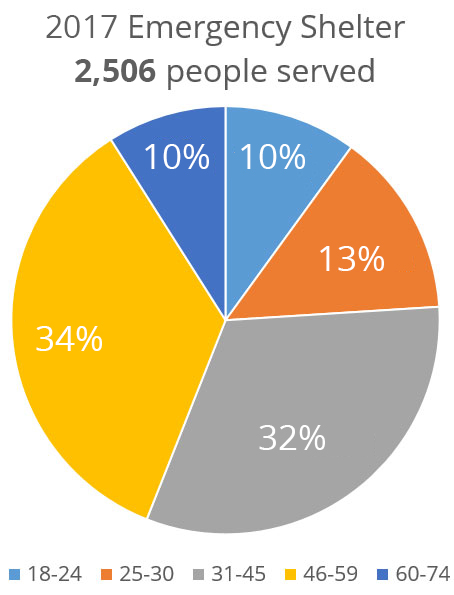 Every year, Shelterhouse assists thousands of individuals – some with housing, some with programs, some with that extra bit of help that will keep them from the edge and alter their whole world. While the numbers both in our area and nationwide may be staggering, they illustrate the reality for many men and women.
Shelterhouse Statistics
2,506 – number of homeless individuals served in our emergency shelter in 2017
Open 24 hours, 365 days a year
74% male, 26% female
Provided 94,156 total shelter nights to homeless men and women
258 – daily average number of residents receiving food and shelter
130,922 – number of meals served this year
Distribute food, toiletries, towels, blankets, and emergency clothing items
27% were chronically homeless
39% were mentally ill
15% were disabled
10% were veterans
(Information collected during 2017 calendar year, VESTA)
Ohio's Homeless Statistics
About 44,728 people experience homelessness each year
Single adults make up 57% of the homeless
Families represent 31% of the homeless
12% of the homeless are chronically homeless
Hamilton County has the 3rd highest homeless population behind Cuyahoga County (Cleveland) and Franklin County (Columbus).
National Homeless Statistics**
In 2016, there were 549,928 people experiencing homelessness on any given night in the United States.
63% are individuals
50% are over the age of 50
15% are chronically homeless
8% are veterans.
60% male, 39.7% female, .03% transgendered

*Chronically Homeless: According to HUD, an unaccompanied individual with a disabling condition who has been continuously homeless for a year or more, or has had at least four episodes of homelessness in the past three years
**Statistics are from the National Alliance to End Homelessness